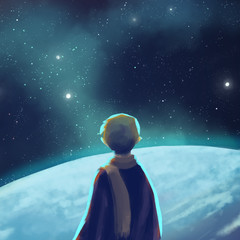 Victoria March
Concept Artist
Indianapolis, United States of America
Summary
My experience consists of working as a full-time concept designer at Creative Works, a theming company. I do freelance illustration on the side; my projects include children's book covers for
New York Times bestsellers, illustrated children's books, printed stage background pieces, and graphic design.
I graduated with a degree in Digital Media Arts - Animation from Huntington University, gearing me with an array of knowledge from 3D modeling and animating to 2D animating and front end concept work.
Skills
2D Animation
Concept Art
Digital Painting
Environment Design
Digital Sculpting
Character Design
Software proficiency
Experience
Concept Designer/Muralist at Creative Works, Inc

Indianapolis, United States of America

I do the front end concept work for laser tag murals, maze wall panel designs, sign designs, prop designs, and paint renderings for the paint department. I also do animation for the company. In addition, I work as an auxiliary painter painting props, maze walls, escape room props and laser tag perimeter walls.

Tutor at Huntington University

United States of America

August 2015 - December 2015

Working one on one with students to master technical how-to in Photoshop.

Teacher's Assisstant at Huntington University

United States of America

September 2013 - May 2016

Providing students with technical aid while learning Photoshop and Toonboom Animate Pro.

Freelance Sculptor at LF Creative Group

Cincinnati, United States of America

I served as a contract freelance sculptor at LF Creative Group for a character apart of their then current project.

Matte Painter at Compass Creative Dynamics

December 2015 - January 2016

Collaborated on several large format stage backgrounds for the Children's Chicago Theater through Compass Creative Dynamics again.

Cover Artist at Freelance

November 2015 - November 2015

Worked on the cover for the fifth installment of the Gryphon Chronicles Series by E.G. Foley.

Children's Book Illustrator at Freelance

Worked on character and environmental concept work for a children's book, "Bula Buddies" by author Walt Smith.

Matte Painter at Compass Creative Dynamics

August 2014 - August 2014

Collaborated on a painted 16'x24' stage background for the Chicago Children's Theater through Compass Creative Dynamics.